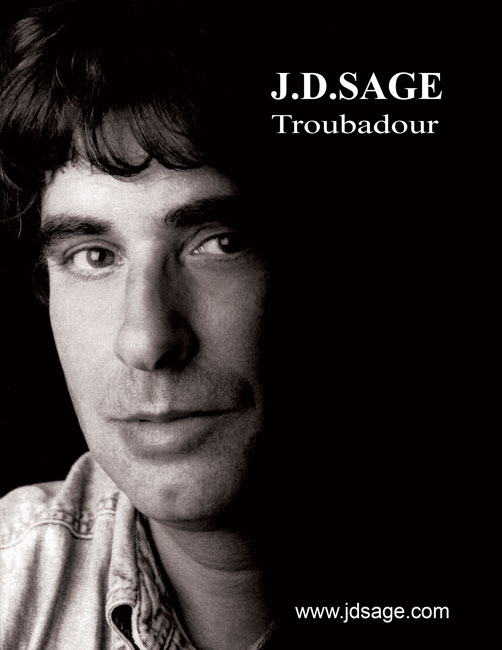 J.D. Sage
Troubadour
(Poet, Songwriter, Musician, Campanologist, Exotic percussionist)
Born and raised in Australia, based in Montréal, Québec he is the modern version of a medieval troubadour or minnesinge; those roaming musicians who composed music and poems denouncing the hypocrisy and praising the beauty of their times: Those wandering minstrels who travelled from place to place blending ideas and emotions into songs and melodies that enlightened and entertained the people who heard them; or so they hoped...
Like them, J.D. Sage plays his own music, sings his own words, most of the time...
Like them, he knows about borders and has travelled far in his search for forms of truth on high mountains, windy beaches, awesome coastlines, angry seas and strange lands.
He has been kindly supported in musical production by great musicians such as Garland Jeffreys, Colin Doroschuck (Men Without Hats) and Claude Ranger. Thanks also to Pierre Bouvier (Simple Plan) for the use of the heritage Harmony electric guitar I used on one of my favorite songs called "Miners of Brazil" (AMERICAS and AMERICAS II albums). iTunes
Fascinated by psycho-acoustics, strings and campanology (the study of bells), he has combined these interests with his love of music and the oceans to create soothing and evocative lyrics and sounds. He has played many great bells around the world: The Great bell at Mingun, Burma (Myanmar); the Great bell at Kamakura, Japan; the big Hemmony bell in the Old Church of Amsterdam, Netherlands; and the Great bell in Havana Cathedral, Cuba.
"These sleepsongs may calm and I hope they do
Stretch your mind, make you feel good too
And if by chance they speak for you
It's proof to me the words are true"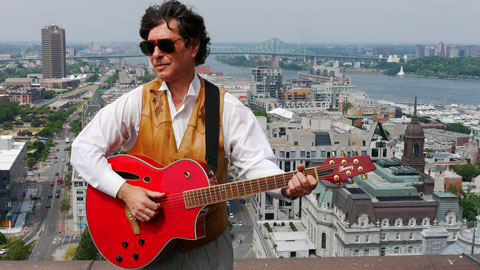 J.D.Sage (Troubadour) Red Guitar Montreal Skyline. (Photo: Pierre Poulin)
J.D. Sage
行吟诗人
       (诗人,歌曲作家,音乐家,异国弹击乐器弹奏家)
     出生并成长在澳大利亚,他是一位现代版的中世纪民谣诗人和行吟歌手。那些自由的音乐家们,他们用自己的音乐和诗歌公然的抨击那些伪善,并歌颂美好的年代:这些流浪的行吟诗人,他们四处游历,把他们的想法和感情混合在歌曲和音律中,听到这些作品的人们得到了启迪和欢乐,他们便有了希望。。。
     如同他们一样,J.D Sage常常做他自己的音乐,唱他自己的歌曲,他并且到遥远的地方去旅行,在那高高的山脉,在那刮风的海滩,在那令人畏惧的海岸线,在那暴风雨的海面,和陌生的领地去寻找真理。
     生理声学,编钟,和鸣钟术(一种敲击钟的音乐)是如此的令人神魂颠倒,他用自己对音乐和海洋的热爱,创造出了令人抚慰和唤醒人灵魂的歌词和乐章。
      他会演奏很多世界著吊的乐钟:在缅甸和日本的镰仑演奏了大钟;在荷兰阿布斯特丹的古老教堂演奏了协和钟,以及在古巴的哈瓦那大教堂演奏了大钟。
    "这些安眠曲让人平静,我希望它们能够使你延伸你的思想,并且能够让你感到舒朊。如果有机会你可以听得到,那么这就向我证明了,这些话都是真的。                      
J. D. Sage
J.D. Sage is indebted to the poetic tradition of Tang Dynasty China (618 a.d. - 907 a.d.);
the I-Ching (1558 b.c - 1050 b.c.?);
and the conceptions and modern verse of Bei Dao, "the poet who travels without a passport".