Québecois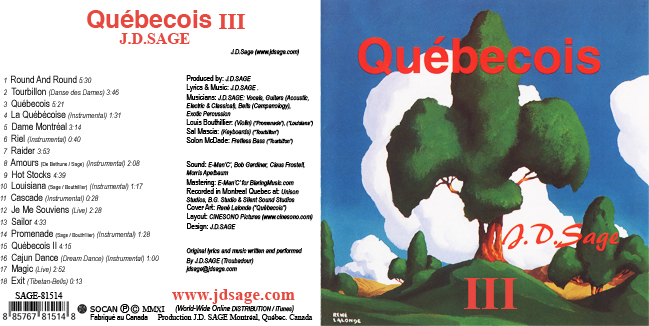 "Québecois III" is a World Folk Album of 17 original tracks of words and music by J.D.SAGE (Troubadour and campanologist).

Songs and Instrumentals are true performances, recorded "Hot" in Montreal, Québec, Canada;
features soft vocals in English and French, guitars (electric, acoustic, classical) and bells (campanology) by J.D.Sage,
keyboards (Sal Mascia), violin (Louis Bouthillier) and with contributions by Juno Award winners Solon McDade (bass) and Morris Apelbaum (sound).
These songs are based on Québecois civilisation and culture. Cover art by René Lalonde, Artiste peintre.

"These Sleepsongs may calm
And I hope they do
Stretch your mind;
Make you feel good too:
And if by chance
They speak for you
It's proof to me
The words are true."
J.D. Sage

"Québecois III" Album is available at cdbaby & iTunes.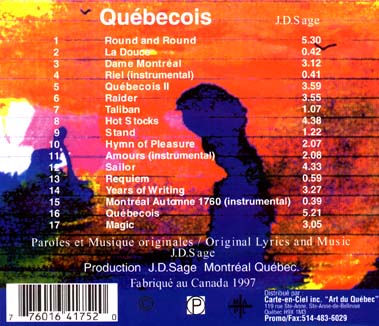 Québecois II
(Ode to Parizeau)
I'm not a Québécois, and still I understand
Your grandma bore the children, and grandpa sowed the land,
Now with sex and drugs you have replaced
The priest who was the Man
Who taxed and tithed
And led your lives
And ruled by soft command.

You're not much a Canuck, a Frog or a Métis
You're not too much a Yank, though you do like "Miami",
And distrust you feel for those who come,
From far across the sea,
Does it stem or could it come from insecurity?

After the defeat, historians they do say,
The church she did take over, as France she looked away,
Preserved you from the English, according to their plan,
Then came Libérateurs: Pierre, René and Lucien.

The Church knew very well
Man's only half awake.
She put you all to sleep
Your souls to liberate.
But what we all forget to say
In book, or poem, or song,
Is that one can't be exploited
Unless one plays along.

When you're no longer young,
You think about the morrow,
You know how all the losers can bring us pain and sorrow.
And the peace you seek, you'll never keep
By gazing at T.V.
A Country's like a soul, a State of Mind it be.

Now, free this soul of all the past,
The past that holds it bound.
Deep down, you know the world it does
Respect you all around,
A country's in your heart, whatever they may say.
And now, from all of us, no need to turn away.

" The Darkest Days are over," to that school you belong
But forgetting a defeat has taken much too long,
Forgetting a defeat is taking much too long.
The past must be forgiven before one moves along.

J.D. Sage, Montreal, October 1996
Copyright 1996-1997
www.jdsage.com