Music available at
Spotify - Deezer - Apple Music
"Troubadour Heartstrings" and "Imperial Opal" are original instrumental pieces with Harp played by J.D. Sage (Troubadour). Cover Art by Production J.D. Sage Montreal. These dreamy lyrical and soothing Harp "Instrumentals" are true performances, recorded "Hot" with a vintage C-12 tube microphone by award winning sound engineer Morris Apelbaum and Claus Frostell in a stone walled room at Silent Sound Studios Montreal Quebec. Evocative avant-garde music with ancient modes and atmospheres. Drift back to an analog experience. Singles available on iTunes. Bon Voyage.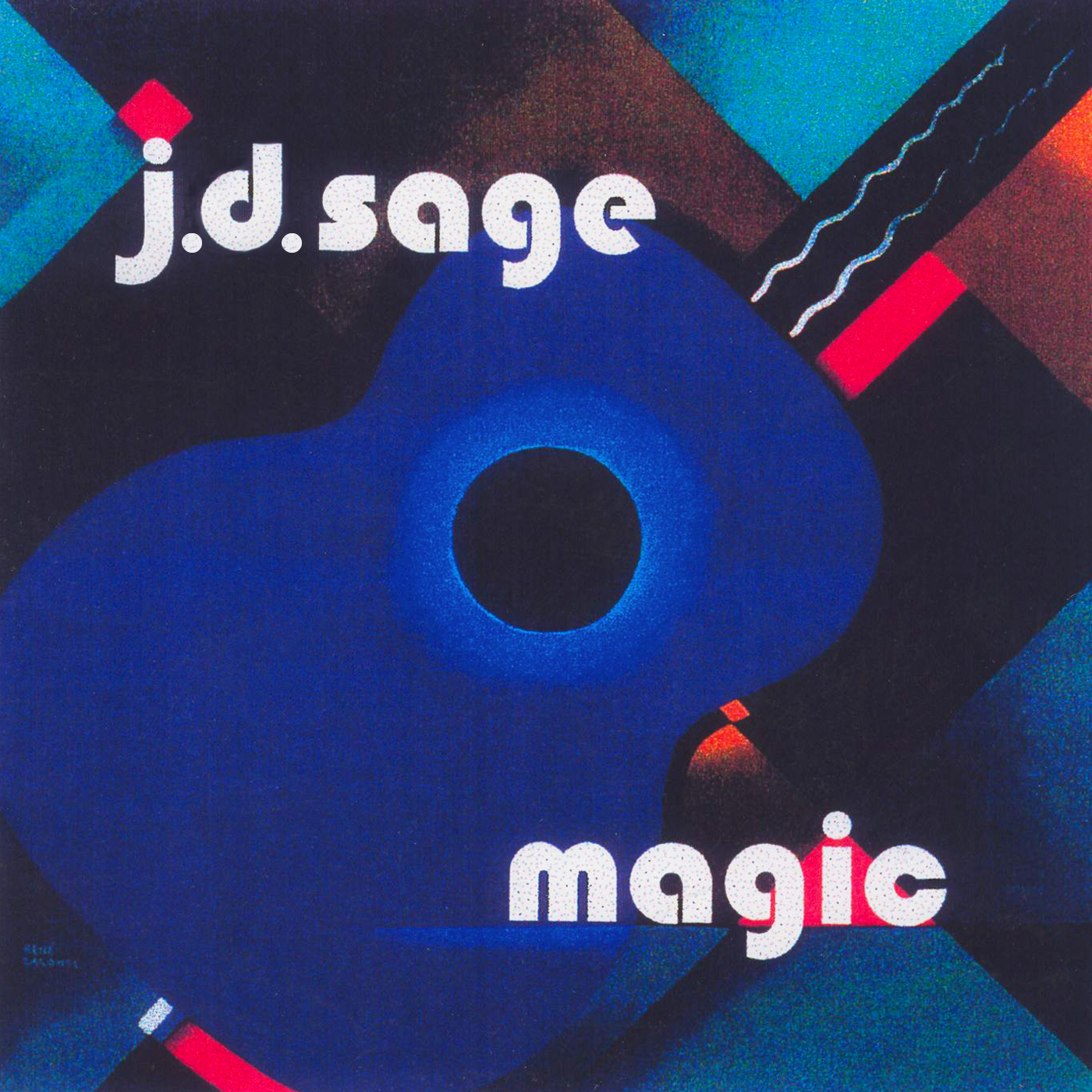 New single "Magic (A Dance)" Guitar, bells, music, lyrics and vocals by J.D.SAGE (Troubadour) with Sal Mascia on keyboards. Single available on iTunes. Some insight into the benefit of a little Magic for love in life. J.D.Sage. Cover Art by Rene Lalonde. Video preview "Magic (A Dance)".

The single "What About Me?" Electric guitar, bells, music, lyrics and vocals by J.D.SAGE (Troubadour) with Sal Mascia on keyboards and Solon McDade on bass. Single available on iTunes. A peppy English Up-Beat and a world wide message about the price of consumerism. J.D.Sage. Cover Art by Rene Lalonde. Art Music Video "What About Me?" - J.D.Sage Radio interview with Mose Persico Mike FM 105.1 Montreal.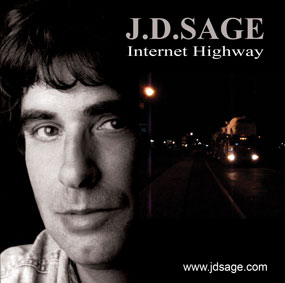 Photo of J.D.SAGE (Troubadour and Campanologist). "AMERICAS II" album is available on iTunes. The song called "Internet Highway" (Cruising Song) is a single from the "AMERICAS II" album and is accompanied by an Art Music Video. I hope everyone likes the beat and the message. J.D. Sage

Now available on iTunes: "Québecois III" is a World Folk Album of 17 original tracks of words and music by J.D.SAGE (Troubadour and Campanologist).

Songs and Instrumentals are true performances, recorded "Hot" in Montreal, Québec, Canada;
features soft vocals in English and French, guitars (electric, acoustic, classical) and bells (campanology) by J.D.Sage,
keyboards (Sal Mascia), violin (Louis Bouthillier) and with contributions by Juno Award winners Solon McDade (bass) and Morris Apelbaum (sound).
These songs are based on Québecois civilisation and culture. Cover art by René Lalonde, Artiste peintre."Québecois III" Album is available at cdbaby & iTunes.


The "Simple Sound Waves" (Campanology, Etudes Campanologiques) project uses an image taken by J.D.SAGE in Nova Scotia, Canada of a gong vibrating in water. The sound recordings were done live at Oscar Peterson Hall in Montreal, Quebec using exotic percussion, bronze bells, Australian Bullroarers, piano, celtic harp and ambient soundscapes of cities and water from China, Canada, Australia, as well as the winds of Hurricane Gustav captured in Cuba. See "Travels Afar" relaxing video - for evocative sounds and images of serenity. Album available at cdBaby and iTunes.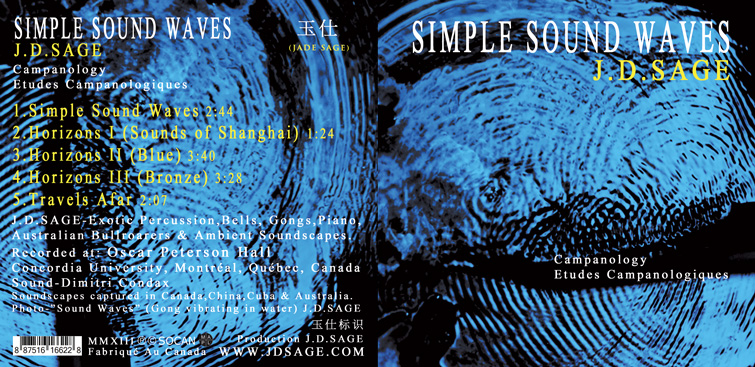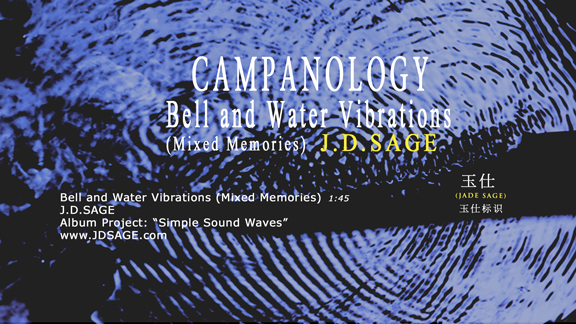 "Campanology: Bell And Water Vibrations". Video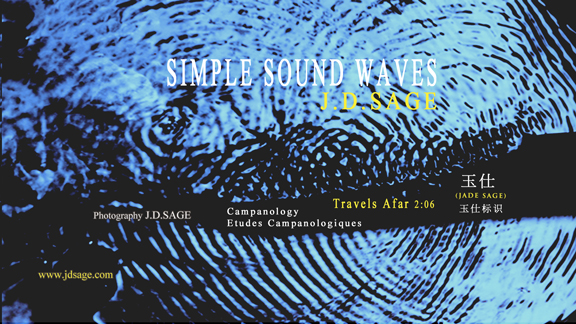 "Travels Afar" from the "Simple Sound Waves" album. Video

The Campanological projects bring adventures in singular sounds of strings, bronze bells and gongs. The montages of sound waves and seas that have been captured are as evocative and elegant as Ethiopian Imperial Opal, the Empress of precious stones. Stones and sounds of great beauty. These soothing and anti-stress projects are called - "Voyages", "Images" and "Simple Sound Waves" (Campanology). J.D.SAGE. (aka JADE SAGE)

Haiti and Ethiopia need trees just as Cuba needs strings for musical instruments. For most Cuban musicians and students the price of one string can be the equivalent of more than a day's wages: So please consider sending new or usable guitar, bass and violin strings for distribution to Cuban musical schools and colleges. They will be most welcome. Thanks, J.D.SAGE. Send to: (Museo Nacional de La Música). Obra Pía No. 509 e/Bernaza y Villegas, Habana Vieja CP 10100. museum@cubarte.cult.cu
"Strings for Cuba" Interview with J.D. Sage by Mary Travis of the "Maple Leaf Mail Bag" show. RCI (Radio Canada International)

The album called "AMERICAS" (which was a pleasure to write and compose after many travels across both continents) features great musicians : Solon McDade on fretless bass and Sal Mascia on keyboards and accordion and Anika G. on backing vocals. New songs include "SUV" "INTERNET" "FORTY ACRES"(Two versions, Hot & Live), "CHINA TOWN" (video on Youtube.com), "WARRIOR" (a short history of American Indians), "GUANTANAMO BAY" ("SENDING YOU A LETTER") (a universal song of freedom for prisoners..); all music can be downloaded on iTunes and Bentmusic.ca






Two new "CAMPANOLOGY/WORLD SOUNDSCAPES" PROJECTS called "VOYAGES AND IMAGES" are actually in final production and some tracks of this NEW Bell & "Concrete Music" will soon be available online.
'The still relevant song "Guantanamo Bay" can be downloaded on iTunes and Bentmusic.ca
History

The "TROUBADOUR" Album (popular on iTunes) is playing all over the world and Australia thanks to ABC National, ABC Queensland, CBC & RCI Canada, CJAD Radio Montreal, K103 Mohawk Radio, RHC and Radio Nacional (Cuba), 4ZZZZ Brisbane, Queensland, the Chinese Radio Network, Australia and VOX FM, Wollongong, N.S.W. This album was recorded in Cuba, Australia and Canada in English, French and Spanish. All the songs were written and composed by J.D. Sage with the exception of a cover song: Garland Jeffreys' classic "SPANISH TOWN".
all music can be downloaded on iTunes and Bentmusic.ca
This song was performed spontaneously during a recording session in Montreal. The memory of the words and emotions that moved me while hearing the song played by Garland Jeffreys many years ago is still strong. For all the flaws in the performance, I think it does justice to the spirit of a great song and Garland has kindly allowed me to present my version.
J.D.

According to Lucky Oceans, the well known host of the ABC radio show 'Planet', "he has not committed the sin of overproduction"; this in referrence to J.D.'s insistance on recording 'live' in order to retain the energy and natural sound of the music.

Recently J.D. returned to Cuba and was again invited to Radio Havana Cuba for more interviews. He would like to thank the people at the station for the international airing of his music. As well, he's grateful to the people at Radio National Cuba and FM Havana for their warm welcome.

Thanks to Mr. Ning Jing of HAINAN T.V.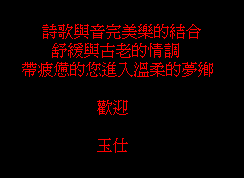 When I decided to record the "Québecois" Album, I opted for live recording (recorded 'hot' - no cuts, no mix), because I felt that the advantages of spontaneity would outweigh imperfections in the performance.
Thanks to extremely positive feedback from all over the world, I have been encouraged to record my new album "Troubadour" in the same way. However this time I did not work alone. Several excellent muscians gave of their time and talent to enrich the production with piano, bass and violin. I also took the liberty of including Tibetan and other bronze bells as accents much the same way as was done on Njacko Backo's 'Lode Yeuk' Afro Jazz album, produced a few years ago.
In response to those who felt that the "Québecois"* album should include 'just one more song in French' the single "Je me Souviens" has been added to the second edition of this album.
I hope both these albums will be widely heard and enjoyed.

Recently I've been recording an instrumental version of my song Dame Montreal with a beautiful Casavant 1400 pipe organ (www.casavant.ca/) played by Lynette Wahlstrom. An instrumental album called Images should be ready soon...
A full length album called Chance which I've been recording in Sydney, Brisbane and Montreal is almost finished and will feature melodic versions of my poem Forty Acres.
Thanks to RHC for early diffusion of the message of Forty Acres worldwide in September 2003.
J.D.Sage
*English spelling of "Québecois" has but one or no accent, Oxford and Websters Dictionary

The QUÉBECOIS Album received excellent reviews and has been heard all over the world. Comments or criticism are welcome as J.D would appreciate the feedback

THOUGHTS OF THE MONTH:
Send strings to Cuba, trees to Haiti, love and smarts to the U.S.A.
Montreal: The cultural and soon to be political Capital of Québec?
Fight Crime, Boycott Hollywood
Who made the money from the bombs in Kosovo?
It will be the way of men to fight until women gain the power to stop them.
SITES OF INTEREST;

Index
Reviews
"In a crazy world of daily stress it is rare to find an album of original music played on a harp to calm our spirits and souls..J.D. Sage's Troubadour Heartstrings is a dreamy collection of harp songs that get take us to far away places, away from worry and all that "busyness". It's a tribute to letting go and surrendering to the precious moment we're living, allowing our soul to dance joyfully and freely in another dimension of sound and peace. JD has travelled the world many times and his music brings us along on his travels..And our hearts as well come along for the ride. And while listening our hearts are touched by the sensitivity and gentleness of the music. I wouldn't want to be in any other place." Mark Pinkus, Pianist & C

omposer. (February MMXV, Montreal)

"Americas II" great album by J.D.Sage. J.D.Sage is a Troubadour in our modern times. Melodious, poetic, irreverential, satyrical and whimsical. The guitars are airy and celestial, just like his masterful poetry. P.P Amazon U.K. reviews.

CHANSONNIER: J.D. SAGE "QUÉBECOIS" by Jacques Garcia (SOCAN)
"Recorded live with only guitars and bells, QUÉBECOIS is an album possessing qualities which transcend the musical plane. One could almost believe that J.D. Sage is the Anglo-Quebecois reincarnation of Shawn Phillips (who is also known for his love of Quebec). Thus Sage has chosen the title "Québecois". Moreover he has shown himself to be a singer and performer without equal! The music of this "Medieval Troubadour" is superb and enfolds lyrics which are as intelligent as they are perceptive; while the whole is performed with great talent."



Reviews, Shows and Spews
www.garv.net/review6
J.D. Sage A Compilation of songs


J.D.Sage brings in one amazing form of acoustic guitar playing with an almost unparalleled set of vocals. These combined are work in an extremely powerful way of expressing his disgust for war and destruction. Even with a low quality tape that was done live I have managed to feel the meaning of this music feel the pain that J.D.Sage has seen. I can actually visualise what he is singing about. I turn the bass all the way up. The beat and force makes me feel that I'm in the war zone. The music forces it upon you this is one powerful musician who should be checked out.




Larrivée Guitars Online

J.D. Sage has created a structurally simple album with "Quebecois", utilizing only his guitar abilities, some "little bells", and a strong commitment to the land and country he loves, evident in the words he writes. An easy listening folk album with rich melodies and an honest heart make for a fabulous addition to anyone's CD collection. I know it makes me homesick for the province of my birth...Jean Larrivée, Luthier, Vancouver


"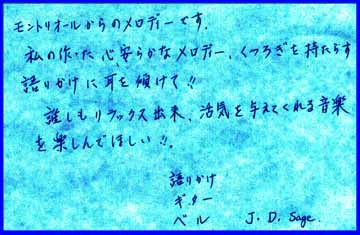 Index